Almanac
Austria, Republic of
Capital: ViennaArea: 83.879 km2Population: 8.858.775Official Language: GermanArmed Forces Personnel: 35.000Medical Officers: n/aMilitary Hospitals / Institutes: 3/3Missions: multiple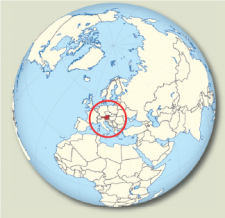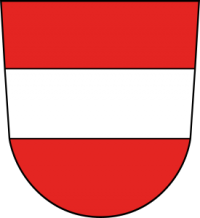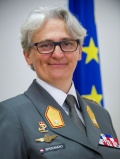 Surgeon General
Sylvia-Carolina SPERANDIO MD PhD MBA
Brigadier General

Basic Task of the Military Medical Service
The general task of the medical service is to care for the health of military service and ancillary personnel. For this purpose, the corps is instructed to use all necessary measures during deployments to ensure that health care services conforming to Good Medical Practice guidelines and optimally structured and organized by the disease, injury and wound (including measures for rehabilitation) are provided for all entitled personnel. The medical corps is responsible for medical planning, administration and material management, prophylactic strategies, patient transport, medical treatment, training of medical personnel, and research & development. The military health service contributes to a large extent to the establishment and maintenance of the operational readiness and fighting capacity of the Austrian Forces.
Structure
A Deployment Support Command Centre is responsible for the central administration of the deployment support services for the armed forces: in peacetime, the relevant areas consist of logistic corps and facilities, the forces sports centre and sector B and C medical facilities and services,i.e. the Centre for Military Medicine, two further medical centres and a field ambulance service (a medical company) with special responsibility for international medical evacuation. The mobilisation plan for the armed forces provides for the commissioning of appropriate supplementary logistics and medical personnel in time of conflict.

The stated facilities and services under Deployment Support Centre are used, as required, to maintain the health of the formations controlled by the military command structure during active deployment. There are ambulance detachments and medical stations that can be deployed independently by the smaller formations stationed in the various barracks; their activities are determined by the nature of the personnel requiring medical support and the distance from the nearest military hospital or dedicated field ambulance centre (medical company). The ambulance detachment services for barracks in which no such formations are stationed are provided by one of the three regional medical centres.
Military Hospitals
(Medical Treatment Facilities – Role 2/4)
There is one Medical Centre Role 4 in VIENNA (25 beds with special sections like surgery, internal medicine, urology, dermatology, neurology, psychiatry, psychology, orthopaedics, ophthalmology, dentistry and laboratory).
Additional is the Medical Service School in VIENNA integrated into the Military Medical Centre Vienna (MMZ). Two smaller Military Medical Centres are located in the south and west of Austria. The Medical Centre South consists of a Field Ambulance/ Medical Coy in GRAZ (a deployable Role 2 for missions which is used in Austria as Medical Treatment Facility for limited Role 4 tasks with 25 beds) and a Medical Training Coy in KLAGENFURT.
The Medical Centre West consists of a Field Ambulance/ Medical Coy in INNSBRUCK (a deployable Role 2 for missions which is used in Austria as Medical Treatment Facility for limited Role 4 tasks with 25 beds) and a Medical Training Coy in SALZBURG.
Additional there is a separated Military Medical Treatment Facility Role 2 (Medical Field unit) in HÖRSCHING which supports STRATMEDEVAC to deployed troops. All deployable medical units are modularly structured correspond in their skills of international directives.
Pharmacy
Five military Pharmacists are responsible for the procurement and distribution of equipment, drugs and consumables. They offer modern drugs for the hospital use and support all medical facilities with necessary equipment and consumables. Military Pharmacies produce special products for military medical use.
Logistic support is offered for military medical facilities in Austria and in international missions.
Veterinary Service
The Military Veterinary Service in Austria is responsible for the education, administration and procurement of animals (education of military animals, including dogs and horses). The veterinary officers are responsible for water and food hygiene and for the procurement of specific veterinary equipment. There are 210 military dogs used for the protection of ammunition depots, detection of explosive material and illegal drugs. 80 horses are assigned for military logistic support missions. Disaster Relief Operations are supported by veterinary officers.
Institutes
Institute of Aviation Medicine (Vienna)
Institute of Performance Medicine and Military Ergonomics (Vienna)
Institute of International Medical Support and Inoculation (Vienna)
Field Deployments
There are a two-level and a three-level system for providing medical support during deployments. In the two-level system, patients are given first aid and are being stabilised for subsequent transport by an emergency medical team at or near the location at which they received the injury or wound and are taken to a medical facility that is capable of providing treatment for the indication. The medical services are to employ the two-level system for as long as feasibly possible. The three-level system is only to be adopted when the transport chain or target hospital become overloaded. In this case, a Role 2 element (field ambulance) is employed as a buffer component within the treatment chain.
Austrian medical personnel takes part in national and international exercises to improve their skills and to train multinational Cooperation.
Their mission is to treat all medical cases and tactical and logistic procedures are to be practised. To integrate MEDEVAC-Teams in the exercises is one main goal.

Austrian medical teams participated in international exercises and with forces of Germany, Switzerland, Czech Republic, Slovenia, Hungary, Iceland, Portugal, Norway and the US.
Missions
Austrian medical teams contribute to international missions to support Austrian contingents and multinational Forces. Currently, medical units are deployed to the following missions KFOR/Kosovo, EUFOR ALTHEA/Bosnia, observers and staff officers (UN, NATO & OSCE Missions) Austria deploys physicians, military paramedics, medical NCO and special functions like Force Medical Officer, Force Hygiene Officer and Medical Advisor.
Civil-Military Cooperation
In order to maintain the quality of the skills of military medical personnel, these are also drafted to serve with the civilian emergency services and are released for hospitation at civilian facilities for several weeks in every year. During this time, this personnel continue to be paid by the military. To support Disaster Relief Operations is one main activity of the Austrian Military Health Service. Medical teams deploy on short notice (within 24 hours) to worldwide destinations. Austrian personnel took part in Relief Operations after earthquakes (Turkey, Iran, Taiwan etc.), the Tsunami disaster (Sri Lanka, Thailand) and other floods (Poland, Mozambique) in cooperation with Austrian Forces Disaster Relief Unit (AFDRU).
Humanitarian Missions were supported by Field Hospitals (Iran, Albania). Support to civilian organizations and the Austrian Government is carried out nationwide.
Interview with Brigadier Sylvia – Carolina Sperandio, Head of the Military Health Department in Austria