Almanac
Malaysia
Capital: Kuala LumpurArea: 329.758 km2Population: 27.730.000Official Language: MalayArmed Forces Personnel: 106.000Medical Officers: 461Military Hospitals / Institutes: 3/3Missions: multiple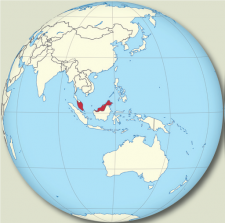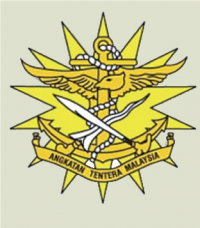 Surgeon General
DR HJ YA'AKOP BIN KOMING PSAT DSDK DMSM PAT JSM KAT KMN PPS PPA MD (UKM) MPH (UM) AM
Lieutenant General

Director General of Health Services Division
15th, Bangunan KUB. Com Malaysia
Jalan Yap Kwan Seng
50450 Kuala Lumpur
MALAYSIA
Basic Task of the Military Medical Service
The Malaysian Armed Forces Health Services (MAFHS) has a tri-service role, providing healthcare to the Army, Navy and Air Force personnel. It also provides service to the families, veterans and civilians employed by the Ministry of Defence. The mission of the MAFHS is to conserve the fighting strength of the Malaysian Armed Forces (MAF).
Structure
Battalion Health Centres
Each infantry battalion has its own health centre. This facility provides primary care services such as maternal and child health services, preventive medical care, laboratory services and a 10-bedded ward. The medical staffs under command of the unit comprise of a medical officers and several military and civilian paramedics.
Dental Centres
Several Dental Centres are located in military camps at Brigade level. They are staffed by a Dental Team comprising of Dental Officers and Dental Auxiliaries. Dental services are also provided at the Armed Forces Hospitals, the Medical Battalions and on board of ships.
Military Hospitals
There are presently three Armed Forces Hospitals in the MAF, each providing between 150 – 200 beds. All these hospitals are well equipped with state-of-the-art diagnostic and therapeutic facilities. One of these hospitals also houses the Institute of Underwater and Hyperbaric Medicine which specializes in the treatment of diving related injuries.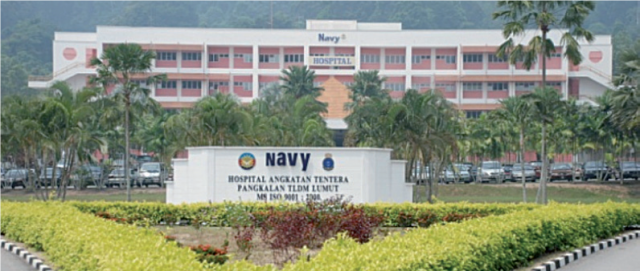 The Armed Forces Hospital in Lumut Naval Base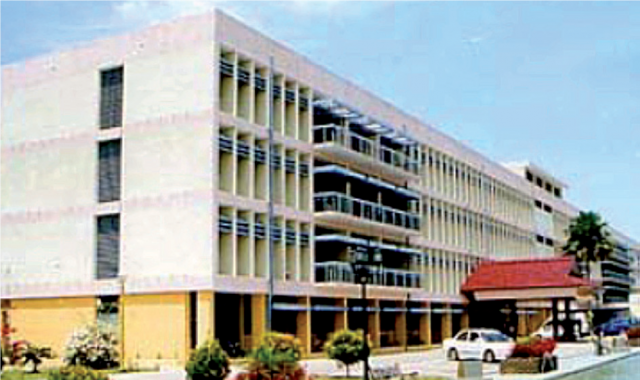 The Armed Forces Hospital in Terendak, Melaka (formerly known as the British Military Hospital for the Far East)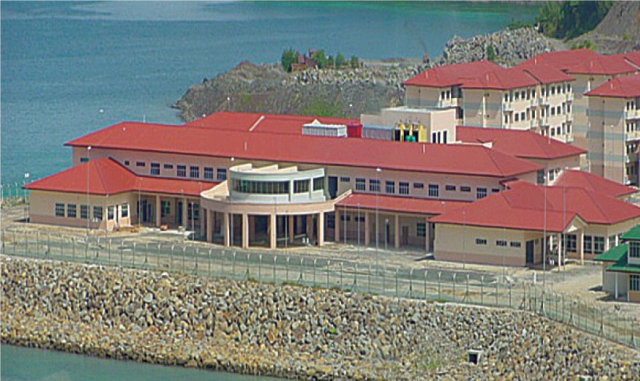 The new Naval Health Center in Teluk Sepanggar Submarine Base, North Borneo
Institutes
Institute of Health Training
This institute is responsible for the training of doctors and medics in the Armed Forces. It conducts courses for staff nurses, military medical assistants, health assistants, operation theatre technicians, x-ray assistants, laboratory assistants, dental assistants and dental hygienists. It also conducts the Medical and Dental Officers Orientation Course.
Institute of Underwater and Hyperbaric Medicine
In November 1996, the Institute of Underwater and Hyper - baric Medicine started its operation at the Naval Hospital in Lumut. Its primary role is to provide specialized services in hyperbaric medicine, and has since become the country's referral centre for diving related injuries. To fulfil its role in education, the institute conducts several courses such as the International Diving Medical Officers Course, the Hyperbaric Chamber Management Course and the Basic Under - water Medicine Course.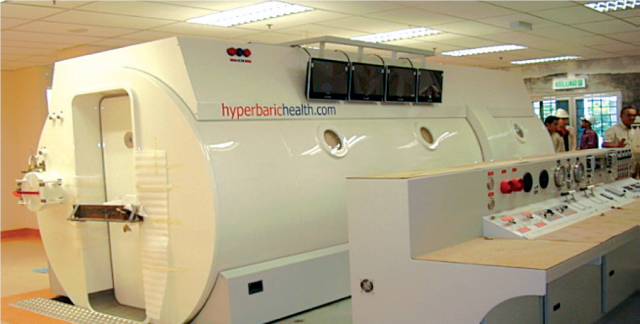 The latest hyperbaric chamber at the Kuala Lumpur Armed Forces Hospital
Institute of Aviation Medicine
This institute was established on 11 August 1976. It is equipped with a 10-men decompression chamber, and an ejection seat training module, as well as facilities for mobile cardiac monitoring, radiation and noise level monitoring, disorientation trainer and other sophisticated hardware. The most recent addition to the institute is the latest generation High Performance Human Centrifuge (HPHC) which provides G-tolerance training to local and foreign fighter pilots. This institute also conducts training for the astronauts in the Malaysian Space Program (ANGKASAWAN) which was run in collaboration with the Russian Federal Space Agency (RUSCOSMOS).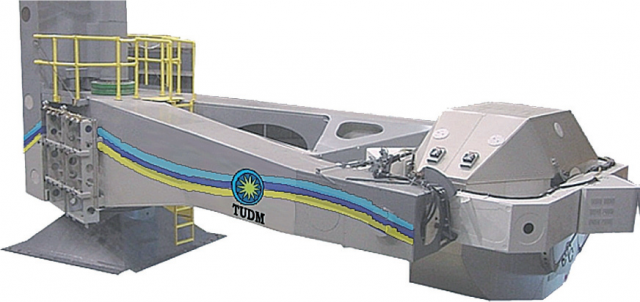 The Institute of Aviation Medicine High Performance Human Centrifuge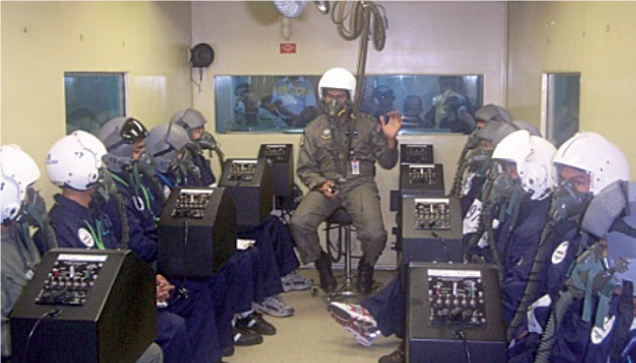 Pilots undergoing hypoxia training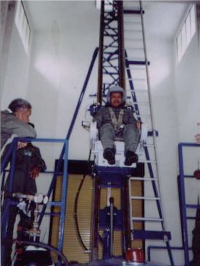 Teaching pilots the right techniques of ejection
Number of the Medical Service Personnel
The MAFHS has a total strength of 3 689 personnel, comprising of 461 officers, 2 903 non-commissioned officers and 325 civilian medical personnel. The corps comprises of doctors, dentists, veterinarians, pharmacists, nurses, psychologists, physiotherapists, dieticians, nutritionists and other related healthcare professionals.
Field Deployments
The provision of field medical support is undertaken by the Medical Battalion. It has in its inventory specialised modules on wheels which can be deployed within a very short time to areas of conflict. Any one of its three companies can be deployed independently to set up a forward hospital in support of a brigade or be grouped together to establish a field hospital to support a division. The forward or field hospital has all the necessary specialists and ancillary back up services and facilities such as a laboratory, blood bank, radiology, induction and resuscitation rooms, operating theatre, as well as dental and preventive medicine services.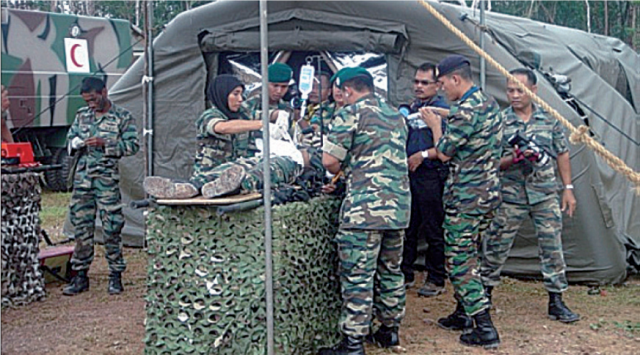 A casualty being triaged at the Forward Hospital
Missions
The first participation of the MAFHS in the United Nations Peace Keeping Operation was in October 1960 at Leopoldville, Congo. Over the next 4 decades, the MAF Medical and Dental team participated in several peace keeping missions, namely Cambodia, Somalia, Bosnia Herzegovina, Timor Leste, Western Sahara and Lebanon.
The MAFHS provided humanitarian aids to the casualties of Tsunami in Aceh in December 2004 and the Battagram earthquake in 2006.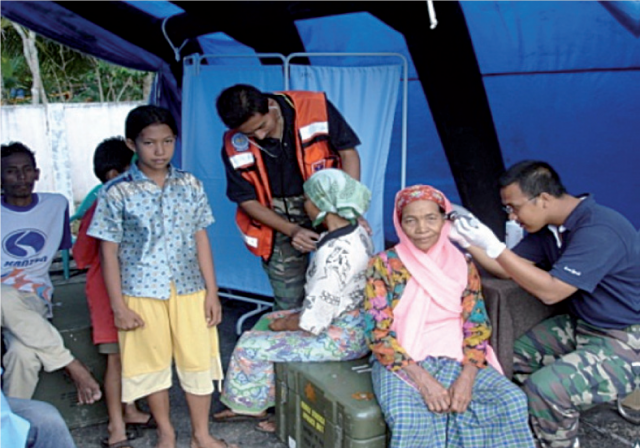 2006. Earthquake victims in Banda Aceh during the Tsunami 2004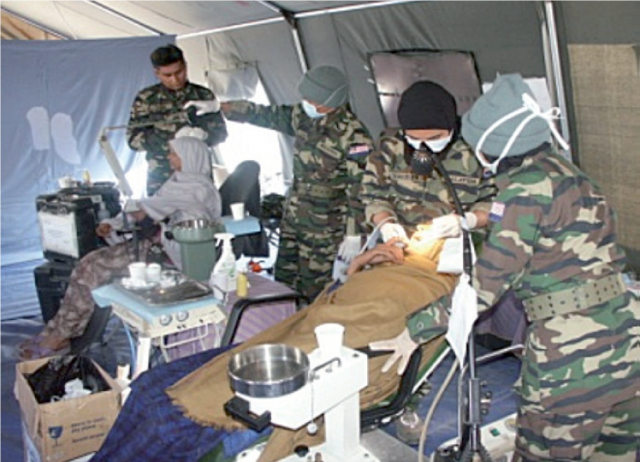 Dental team – hard at work in Battagram, Pakistan during the earthquake 2006
Special Aspects
A Faculty of Medicine and Defence Health will soon be operating under the National Defence University of Malaysia. This faculty will offer a 5 year medical degree program, which incorporates subjects of military importance such as disaster medicine, battlefield medicine, aviation medicine and underwater medicine in its curriculum. In future, this faculty hopes to offer the Postgraduate Diploma in Military Medicine and Master of Defence Health.
The New Armed Forces Hospital in Kuala Lumpur will become the tertiary referral centre for the MAFHS as well as the Centre of Excellence for Disaster Medicine. This hospital has a bed capacity of 332 and is equipped with the latest technologically advanced medical equipments.
Articles
Browse by category
SDFDS is the Section Defence Forces Dental Services from the FDI. Every year prior to the FDI annual congress we organize an annual meeting. This meeting contains of a cultural day and a scientific program of 2 days, in which international military dentists share their experiences, challenges and latest developments.
The next meeting will be from 29 AUG-1SEPT in Shanghai, China
Events