Almanac
New Zealand
Capital: WellingtonArea: 268.021 km2Population: 5.008.090Official Language: English, Te Reo Maori, Sign LanguageArmed Forces Personnel: 9.051Medical Officers: 30Military Hospitals / Institutes: 0/1Missions: multiple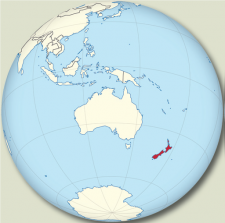 Surgeon General
Andrew Gray QHDS, BDS, MFGDP (UK), PGDip DS, psc(j), FADI
Brigadier General

Vision
A better, stronger, healthier NZDF
Mission
To enhance Force strength through health
Basic Task of the Military Medical Service
Defence Health Strategy
The New Zealand Defence Force Health Strategy is designed to improve the health of New Zealand Defence Force personnel. The Defence health system is designed to be an integrated system of health for the successful delivery of comprehensive health support to all military members of the New Zealand Defence Force. The focus is on maintaining, improving, and restoring health.
Structure
At the strategic level, the New Zealand Defence Force has a single Defence Health Directorate. The Directorate is commanded by the Director of Defence Health who has the overall accountability and responsibility for governance, and the professional and technical control of health within the New Zealand Defence Force.
Defence Health Directorate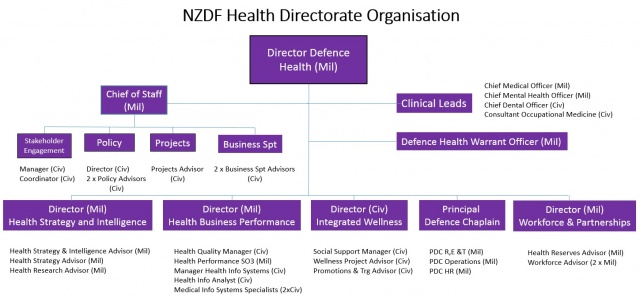 At the operational and tactical level, the New Zealand Defence Force health component is commanded by the Commander Joint Forces New Zealand (COMJFNZ). His day to day Defence Health Commander is the Joint Support Component Commander (JSCC) and her responsibility is to ensure that force health readiness is provided, deployable health capability is generated to support New Zealand Defence Force operations and operational health risks are managed. This allows the New Zealand Defence Force to create a single point of accountability for the allocation of health resources.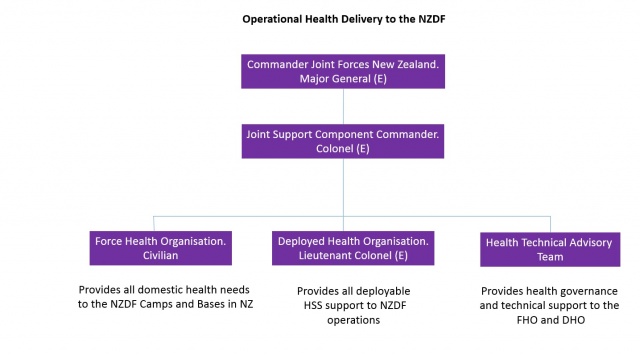 Training
The New Zealand Defence Health School provides core individual training for medics of all three services. This training focuses on providing a balance between practical and theoretical training to create deployable medics who can serve in the Land, Sea or Air environment.
Field Deployments
Deployable Medical Support Elements
Naval deployable health elements perform Role 1 functions onboard New Zealand Defence Force ships. The Navy's multi-role vessel HMNZS CANTERBURY has recently been refitted to include a surgical operating theatre, which can be utilized by Role 2 staff from the Joint Operational Health Group.
Army deployable elements provide both Role 1 and Role 2 health functions, including life and limb saving surgery, for operational deployments.
Air Force deployable health elements perform Role 1 functions for the Royal New Zealand Air Force. Air Force health staff is responsible for the provision of both fixed and rotary wing aero-medical evacuation.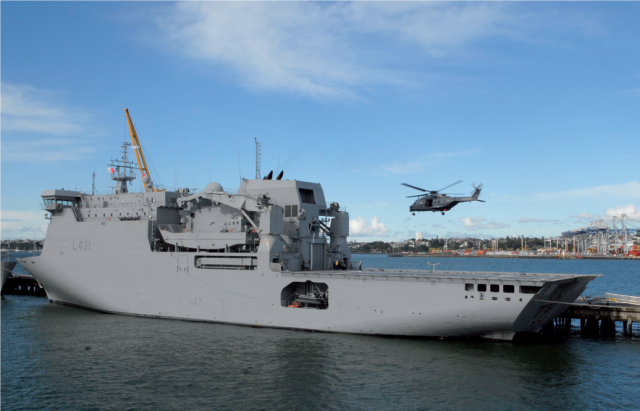 Civil-Military Cooperation
The New Zealand Defence Force domestic health system employs a mixture of military and civilian health services. Basic Primary Health Care is provided by the military health system. Complex health care is typically provided by either the private health system or the public health system. The New Zealand Defence Force relies upon the close relationship that exists between the civilian health sector and Defence health facilities.