Interview: Brigadier Andrew Gray
Interview with Brigadier Andrew Gray, Surgeon General, New Zealand Defence Force
Interviewer: You are the director of the New Zealand Defence Force Health Services. Could you please give us a brief overview of the organisational structure of your medical service?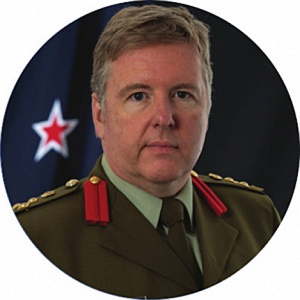 Surgeon General: Responsibility for the health of the Force rests with Defence Health, Command and all individuals within the New Zealand Defence Force. The Defence Health Strategy 2025 (DHS25) sets out five objectives to continually enhance the health of the Force. Operationalisation of the objectives rests with leaders throughout Defence Health, as well as individuals across the wider organisation. Success is measured by optimising health impact, developing the Health team, ensuring the wellness of the Force through an integrated health system, which is safe and sustainable. DHS25 aims to continually improve the delivery of comprehensive health support across the NZDF. It sets the path to a better, stronger, healthier New Zealand Defence Force (NZDF) by protecting, preparing, improving, informing and, when needed, restoring the health of our personnel. DHS25 provides a clear focus on physical, mental, spiritual and social health. The Defence Health Operating Concept 2025 (DHOC25) supports the DHS25 by providing clear articulation of our operational health capability to better support our Force and meet the aims of DHS25.
Interviewer: What role does the medical service play in the armed forces of your country?
Surgeon General: Defence Health has three strategic outcomes:
• Provide a deployable health capability that delivers a comprehensive health care system
• Maximise the health of the operational force, by ensuring that all service personnel are 'health fit' for military employment and 'health ready' for active service
• Ensure a robust and benchmarked health service that applies its health effects in the right place, at the right time, to the right level, and for as long as it is needed
Interviewer: What form does the co-operation with the other branches of the armed forces take?
Surgeon General: Through the health services, Corps and branches, NZDF provides health care to its military personnel. NZDF Future 35 strategy set the vision for 'joint operational excellence' – a vision that strives for integration and joint interoperability in the way NZDF works, trains, and operates at home and abroad. Defence Health has committed itself fully to this vision. Defence Health Directorate (DHD) provides the strategic governance and stewardship and Joint Support Component Commander (JSCC) provides all delivery of all operational health. Moving forward, Defence Health will provide leadership by coordinating, developing, delivering and managing Health across the strategic and operational health environment. Whilst the Director Defence Health has primary responsibility and accountability for this Health Strategy, it also requires acceptance and commitment from all NZDF Commanders.
Defence Health is a critical enabler ensuring that personnel are 'health ready' and 'fit to fight' for deployment. The success of their mission, operation, or exercise requires a health focus centred squarely on the individual. The influence and contribution made by military families and wider domestic support networks are critical to the overall health and wellbeing of service personnel. As a result, Defence Health will continue to provide more holistic close health support that may continue after returning from active duty and extend to veterans. Defence Health also has a duty to provide a safe and rewarding working environment for civilians and contractors ensuring that the NZDF meets its legal and moral obligations to them.
Interviewer: Are there any special challenges that you face in the medical service? What about the next generation of servicemen and women, for example, or the general personnel situation?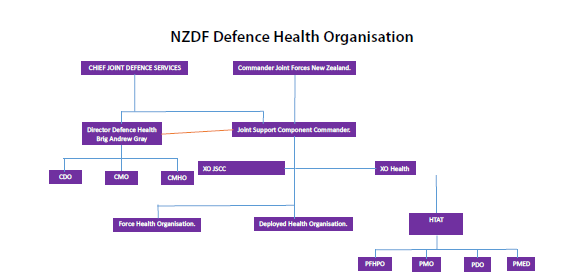 Surgeon General: NZDF is a small modern military by global standards, with some 14,000 personnel (which includes 3,000 civilians). Global and political factors shape the Government's expectations and tasks that the NZDF must then prepare for and undertake. The NZDF will meet these expectations and challenges through its greatest resource – its people. Defence Health's input into enabling personnel who are health ready and 'fit to fight' is pivotal in enabling NZDF to meet its obligations in an evolving strategic global environment. This presents a challenge to NZDF as the recruiting pool of specialist health personnel is narrow and accessible to wider whole of government response options. Defence Health can expect an operational environment that presents multiple and dispersed mobile actions in a joint multi-threat operating space across land, sea and air domains. This will require the provision of a wide range of health support, potentially at the same time, across an independent Joint Task Force or an expeditionary led operation, delivering the day to day activities of standing medical facilities. This challenges Defence Health as similar specialist skill sets are required to support specific environment specific platforms. A shift to an integrated joint model aims to mediate this for the future.
Interviewer: What incentives do you use to try to convince applicants of the attractiveness of the medical service?
Surgeon General: An integrated joint health model presents Defence Health personnel significant benefits, including:
• Professional mastery within service specific environment blended with employment options across other employment environments
• Competitive pay benchmarked to the civilian sector
• Challenging but rewarding life style
Interviewer: What do you consider to be the future of specialist medicine?
Surgeon General: Defence Health is expected to change and evolve dramatically as future technology and techniques lead the advance in medicine and the provision of health support services. Potential examples include:
• Trauma treatment and stabilisation could mean casualty hibernation in the front line, thus reducing the urgency for surgery, and easing the pressure on evacuation assets.
• Combat personnel could be physically enhanced through the use of wearable smart clothing. Such clothing will enhance capability through orthopaedic and muscular support, while aiding physical protection.
• Monitoring personnel through on-body sensors could enable the capture of an increasing number of physiological measurements including: sleep and stress levels; recording of exposures to toxic substances; and detection of disease.
• Real-time reporting aided by health intelligence could enable the provision of evidence based environmental threats and health risks directly to Commanders, on which to support or shape their immediate actions.
• Greater access to health information for Commanders could enable them to be more informed of the level of operational health risk in relation to personnel, and the health management of those individuals.
• Greater access to health information for individuals could enable them to monitor their own health and wellbeing.
• Micro-drones and scattered sentinel hazard monitoring systems could be used by health personnel to assist in identifying health and environmental threats; gathering information for health intelligence; and monitoring and supporting the progress of the injured in the battlespace, and elsewhere
Interviewer: What experience has the New Zealand medical service acquired during assignments abroad; where do you see a general need for improvement? Furthermore – what has worked particularly well and to your satisfaction?
Surgeon General: Defence Health has supported numerous HADR responses within the South West Pacific as well as a series of overseas enduring operational commitments (in coalition) deployed to the Middle East. Defence Health is currently undertaking a major project to 'reset' the operational health support to all NZDF outputs. Once completed this will achieve an effect based approach focussed on:
• Shift to NATO joint medical doctrine
• Integrated R0 First Aid Framework across NZDF
• Optimised R1 support
• Delivery of R2 surgical effect
• Supported ground and air evacuation capabilities
The net effect will ensure that future operational health support will:
• Deliver all components of a continuum of care
• Organic components focused on investment in military medicine
• Mission tailored HSS – flexible, agile, interoperable
• Scalable for 'effects' based care
• Interdependent HSS capabilities link the continuum, and
• Needs to enable support across environments.
Interviewer: How do you assess the importance of international co-operation?
Surgeon General: NZDF shift to NATO Health Doctrine will provide significant opportunities for shared cooperation, collaboration and potential partnership opportunities for the future. This is considered essential to ensure mission success with the NZDF future operational health support model. The annual meeting of the COMEDS – Military Medical Services is always a special highlight. Are there any particular focal points of the conference that you would like to draw our attention to? The plenary itself belongs to COMEDS. This is our chance to showcase New Zealand and we are ensuring that we are doing this in the best way we can. We hope that all delegate, partners and industry personnel enjoy the plenary and activities associated with this event.
Interviewer: We would like to thank you very much for the interview and wish you a successful COMEDS event.
Date: 12/19/2019
Source: COMEDS Special Issue 2019