Article: Colonel Zoltan Vekerdi, MD
Background, requirements and introduction to an integrated approach to Reconstruction and Development efforts in Crises Response Operations
The article highlights the issue from a strategic point of view and does not go into details of its operational and tactical aspects. MCIF readers get a short introduction, background and the main requirements for an integrated approach to reconstruction and development efforts in crises response operations.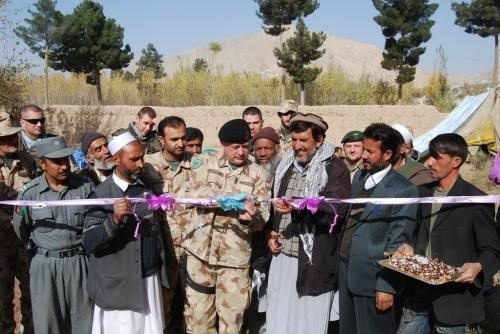 ABSTRACT
The article highlights the issue from a strategic point of view and does not go into details of its operational and tactical aspects. MCIF readers get a short introduction, background and the main requirements for an integrated approach to reconstruction and development efforts in crises response operations.
AIM
The aim is to Identify, on a demand-driven basis, how NATO military medical actors in synergy with national, international and NATO civilian actors can help meet the needs of the local population within the framework of Reconstruction and Development (R&D) efforts while supporting the NATO commander`s intention during crises response operations.
SPECIFIC OBJECTIVES
To provide an overview of the needs for military engagement in R&D support in operations;
To deepen and broaden the knowledge of the relevant R&D support provided by the civilian international community in the theatres of operation;
To identify key NATO military medical capabilities that can help meet the needs of operational commanders as well as of the Host Nation authorities in their R&D efforts.
EXPECTED OUTCOME
Seizing the opportunity provided by MCIF, the author intends to generate discussions that can contribute to development of recommendations for R&D coordination and cooperation. These recommendations will inevitably go beyond strategic aspects of R&D, defining the appropriate level of interaction between the above-mentioned political, military and civilian players on operational and tactical level in the theatres of operation.
SECURITY CONSIDERATIONS
The Alliance was created in 1949 with the aim to protect its citizens, defend territorial integrity of its members and to ensure protection of the Alliance`s interests. This aim requires cooperative security with engagement of our partners as well.
Security of the North Atlantic Alliance as a whole and of its member nations in particular depends on operational success (specifically in Afghanistan, with afghanization of the International Security Assistance Force mission); on the ability of the Alliance to undergo transformation resulting in a leaner and more cost effective organization with more flexible and deployable capabilities.
In order to enable common understanding among MCIF readers hereby I give the current definition of a capability that is an ability to cause action to achieve an aim, or objective, and is a complex mix of the following elements (DOTMLPFI):
Doctrine
Organization
Training
Material
Leadership
Personnel
Facility
Interoperability
R&D FRAMEWORK AND REQUIREMENTS
Medical requirements of R&D efforts are outlined in the Vision and Objectives of the Committee of the Chiefs of Military Medical Services in NATO (COMEDS), and name development of procedures in support of Humanitarian Assistance missions, and enhancement of cooperation with relevant civilian organizations. These basic principles are embedded into the military medical framework of operational environment, professional medical development, societal influences and efficiency of R&D activities.
WHAT IS THE MILITARY INTEREST IN R&D ACTIVITIES?
Military medical R&D activities are aimed at preventing further suffering of the local population in the theatre of operation, while protecting their interest, and preparing for an exit strategy of the NATO forces.
A prerequisite of this exit strategy is the mission accomplishment that may result in handing over tasks and responsibilities of NATO forces to a United Nation-led mission; to non-NATO military forces; or directly to civilian control. However, in case of escalation of the operational situation, this handover-takeover of military tasks and responsibilities may take place also between Initial Entry Forces (e.g. NATO ResponseForces) and follow-on Alliance forces.
Success of R&D activities depends on coordinated determination of the definition and scope of military engagement; and on reaching common understanding on terminology and procedures among key players.
In general, the key players are the local population, the Host Nation government and local authorities, civilian organizations acting in the theatre, the Alliance forces, the external players, and the opposing forces as well.
The area of interest and responsibility for NATO forces in R&D activities include, but is not limited to the following elements:
Outline a common understanding on where Alliance medical forces can add value;
NATO Strategic Commands deliver their assessment of the Alliance military medical strategy on R&D (see the Allied Command Operations Directive 83-1);
Direct impact on the current development and validation of the military medical R&D policy (see within the current update of NATO principles and policies of operational medical support).
NATO commanders and decision makers need to check whether there is a gap in the current NATO R&D policy, whether the forces need additional documents in this area before entering the theatre, how and when to implement the existing policy (a clear direction is required for the end users), and what are the specific partners and agencies of interest in the theatre of operation.
The question is –of course- whether NATO forces should at all be involved in R&D activities. Without exploring the full extent of this question, the minimum requirement for NATO forces to run R&D activities exists, when the Alliance forces are the first responders in the theatres of operation, that is when Host Nation and international players lack the capability to respond to the immediate needs of the local population in this area.
THE OPERATIONAL CULTURE BEHIND R&D ACTIVITIES
It is obvious that we need to change the way we think about and approach operations, in order to meet the requirements described above. This can be achieved, if supported by a unity of efforts, while balancing medical resources with the risk involved in being militarily engaged in R&D activities.
While in certain cases NATO forces have no other choice, but dealing with the tasks and challenges of R&D activities, the good news is that NATO recognizes, respects and supports multilateral players and their interests in R&D activities; remains open for coordination (and cooperation, as required) with partners; and is prepared to use its capabilities in R&D programs that are aimed at alleviating sufferings of the local population, while supporting mission objectives.
Specific areas for such coordination and cooperation open in guidance and training of NATO personnel and partners; in developing mechanisms to reinforce NATO forces with expertise from civilian partners; and in exploiting existing expertise within Alliance nations which have integrated civil-military response (through the Lessons Learned process).
SUMMARY AND WAY AHEAD
While the last six years provided vast operational experience for NATO in R&D activities, which changed the way we think of our (NATO military medical) role, there is room for further improvement. Most of the time this means adjustment to the changing conditions and environment in which R&D activities take place in the theatres of operation.
Significant leverage in these adjustment efforts can be achieved in the following areas:
Intelligence flow between NATO and partners needs to be improved
Declassification, periodic review and update of R&D policy, doctrine and directive
Info sharing and reach back (a possible role for the newly established NATO Centre of Excellence for Military Medicine)
Leadership role
Develop institutional framework with international organizations
Adjust R&D structures
Involve the Standing Group of Partner Medical Experts
Pre-deployment training of key medical personnel
Communication
Enhance communication of R&D activities in media operations
Report periodically on R&D activities to the Military Committee and North Atlantic Council
SUGGESTED READING
Operational and tactical aspects of R&D activities are described in detail in the Allied Command Operations Directive 83-1.
Dear MCIF Reader,
Should you have comments or questions on the subject, please do not hesitate to contact the author of this article via the MCIF editorial board.
Sincerely yours,
Zoltan Vekerdi
Colonel Zoltan Vekerdi, MD, Hungarian Defence Forces*
*Head, Medical Branch, Logistics and Resources Division, International Military Staff
NATO Headquarters
Boulevard Leopold III, Brussels 1110, Belgium
Date: 01/05/2010
Source: MCIF 1/10