XENIOS AG
Im Zukunftspark 1
74076 Heilbronn

Telefon: +49 7131 2706 100
Internet: www.xenios-ag.com
E-Mail: customerservice@xenios-ag.com

CREATING A FUTURE WORTH LIVING. FOR PATIENTS. WORLDWIDE. EVERY DAY.
Xenios AG - a company of the Fresenius Medical Care Group - is a pioneer in extracorporeal heart and lung support. The Novalung and Medos products offer a wide range of heart and lung support products via a single platform, the Xenios console.
Xenios' mission is to improve patient well-being and care. The Novalung therapy aims at a paradigm shift in lung support: enabling the treatment of patients that are awake, self-determined and mobile.
Xenios AG has been part of Fresenius Medical Care, the world's leading provider of products and services for people with kidney disease since the end of 2016. Xenios complements the group's portfolio in the area of holistic multi-organ support of FME.
SOLUTIONS FOR LUNG FAILURE
Novalung offers solutions for the treatment of acute and chronic lung failure with a complete product portfolio for extrapulmonary lung assist. From neonates to adults.
FROM CO2 REMOVAL TO FULL OXYGENATION - NOVALUNG THERAPIES
The Novalung product family enables therapies for lung failure that are adapted to specific indications. In short, Novalung products can replace or reduce invasive mechanical ventilation with therapies tailored to the needs of each patient. The Novalung platform performs any level of CO2 removal and oxygenation in acute respiratory failure / AECOPD.
SOLUTIONS FOR CARDIAC SURGEONS AND PERFUSIONISTS
Medos is your partner experienced in cardiopulmonary solutions for more than 30 years: Highly skilled employees and high quality manufacturing – for the benefit of cardiac surgeons, perfusionists and patients. Whether aortic valve replacement or bypass surgery, almost all cardiac surgery procedures can be performed effectively using Medos products. The acquisition of Medos and its established blood pump technology allowed Xenios to expand its overall product and therapy portfolio.
OVER 30 YEARS OF EXPERIENCE
Medos focuses on the continuous development of therapy solutions for cardiac surgeons and perfusionists.
Articles
Browse by category
Events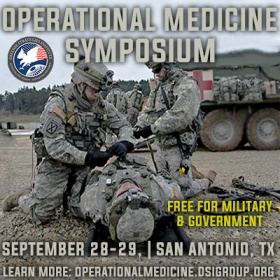 The 3rd Annual Operational Medicine Symposium will focus on DoD initiatives to enhance military medicine in an era of great power competition. This symposium will bring together highly regarded medical professionals from all services to discuss the practice of medicine in expeditionary environments.