Report: Felix Herkert
Medical Deployment to HAITI after the Earthquake
Humanitarian Relief Mission HAITI
On the 12th of January 2010 at about 16:53 hours, an earthquake showing 7.2 on the Richter scale hit the island of HAITI, the epicenter was
located just west of the capital Port-au-Prince. The impact was devastating. International assistance was essential and immediately organized.
Spezialists in humanitarian relief missions from Switzerland were amongst the first to respond.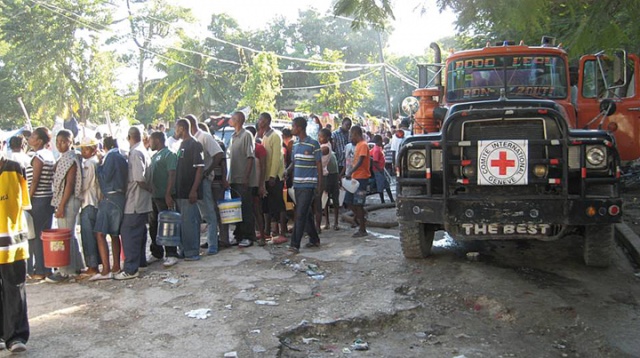 On the evening of 13/01, I informed my wife that a severe earthquake had taken place in Haiti. At the time, I was acting as an instructor in an ATLS course.
The next afternoon - when younger colleagues were ready to take the practical ATLS examination - I received a phone call from our national DEZA ("Direktion Entwicklungshilfe und Zusammenarbeit," Department of Foreign Aid and Collaboration), an organization I had collaborated with for years as a stand-by resource. According to the call, I had to go to Haiti immediately in my role as a catastrophe surgeon.
During my return trip from Basel to my hometown in Appenzellerland, I stopped in Bern where I received instructions, a diplomatic passport and personal equipment. On 15/01, I flew from Paris to Punta Cana in the Dominican Republic. That country and Haiti share the same island, and Punta Cana is located on the opposite end.Given the precarious conditions at the time, flying to the catastrophe zone was impossible.
Instead, I traveled by car, heading west.
After an overnight in Santo Domingo, a large bus was made available for the rest of the journey.
We stuffed as much drinking water (in bottles and large containers), food and diesel into the bus as possible, to ensure that we could survive the coming days.
When we reached the Haitian border, the customs officials and soldiers - in particular those from the Dominican Republic - were wearing face masks.
At that point, we were still a good three-hour' drive from the destruction, and aware that, although the air can smell of decaying corpses, there is never an associated risk of epidemic.
I was actually in Haiti. Before entering the country, I did not really understand what a poor, ruined and oppressed country it was ... Of course, on the journey there, we had attempted to get some information and bring ourselves up to speed.
We had information related to: a long list of corrupt rulers; the UN mandate with 15,000 peacekeepers, primarily from South American countries; the lack of a birth/death registry; the over 50% illiteracy rate; the fact that over 50% of the some 9 million inhabitants are under
the age of 20, and over 70% of the population unemployed; that one of three adults is infected with AIDS; and, since the 18th century, a precise documentation of all significant earthquakes, which have occurred every few decades ... just to name a few shocking details...
And now this already poor, devastated country has had its capital city Port-au-Prince devastated, and is without leadership and is out of control once more.
About 200 of the leaders of the peacekeepers, who planned and gave commands from the office buildings, were buried alive...
4000 young male prisoners escaped from prison, and began arming themselves once more and terrorizing the population, finishing what they had started.
It was only later that we fully understood that we were dealing with the largest catastrophe of modern times, with some 250,000 dead, 300,000 wounded and millions of refugees.
After what these people went through - not having any heavy digging equipment, they were forced to listen while those buried alive called for help for days, futilely digging at the grave with hands and shovels and picks - it is understandable that no one would go back into the houses that were left standing, considering the ongoing aftershocks, no matter how "light" they might be.
As a result, the entire surviving population of this city of three million is on the street, living in parks, in the squares or in the narrow strips of space of road between the collapsed houses and the traffic.
The needs are enormous and the supplies are shockingly low...
The primary problems are drinking water supplies and food, the disposal or urine and feces, not to mention the removal of the decaying corpses that were uncovered and then stacked in piles on the sidewalks in the morning, waiting for removal...
And all of the bodies that could not be dug up from the collapsed buildings... in three to five floor houses that have been completely leveled.
As a result, there is a sickly sweet smelling cloud of decaying bodies and urine hanging over the city, the first smell emanating from the fallen houses, the second from the parks and squares...
Luckily, the weather is good; the days are above 30 and the nights just below 20 degrees. The rainy season is two to three months off, so surviving outside is not a problem in that sense. Cloths are stretched out everywhere as protection against the sun and, evidently, a few mattresses and covers could be dragged into the streets from the rubble of the surviving houses.
The stores are either destroyed or closed. Soon, nearly everything is available on the black market, but at massively inflated prices. People cannot get money from their destroyed houses or the banks. Whatever can be plundered is quickly gone...
Help is somewhat delayed, since the airport and the port roads are destroyed; streets and bridges are only partially passable. Many vehicles have been crushed under the rubble.
Before the earthquake, security was fragile; now, the police cannot function at all. As a result, everyone is pleased when the US Army enforces robust "law and order".
By the sixth day after the quake, they have sent 7000 heavily armed men to Port-au-Prince with their big vehicles.
Several hospitals are still intact, while others have been completely destroyed including the training buildings for nurses in the university hospital -- and the sickly sweet smell in passing leaves one wondering just how many people are still buried in the rubble.
To say that personnel is lacking is an understatement. The countless patients that have been affected lie in beds or on mattresses in the hospital parking lot or in the street. They are cared for as best as possible under the circumstances by relatives, if there are any there
In all this chaos, 5 days after the earthquake, we meet our surgical team at the University Hospital of Haiti in Port-au-Prince.
We live in rented villas, up on the hills surrounding the capital city - there where the wealthy and the drug barons live. They've abandoned the country as a result of the earthquake. Each day we climb town from this world untouched by the destruction and descend into the inferno of devastation below.
In the evenings, we are happy to return to these orderly conditions, if only for the night. Although, we can still feel the aftershocks there, to the point that you stop sleeping in your bed and try to rest outside in the garage entrance or in the garden - covered by a mosquito net, of course, to prevent malaria or dengue fever.
Organization and Implementation of the Medical Assistance:
We have three Swiss coordinators, one our Medical Chief of the DEZA, an Anesthetist from Geneva, and two senior consultants, both about seventy years of age, one a former Chief Surgeon of the St. Gallen Children's Hospital and the other a former Pediatrician from Geneva.
There are two surgical teams, each consisting of one surgeon/orthopedist, one anesthetist, one anesthesiology assistant and one nurse. One team was from the Romandy region, one from the German region of Switzerland. I am the surgeon in the latter. Plus one or two supply/pharmaceutical assistants.
From the start, we decided to specialize on children and pregnant women. Covering only this crucial segment - and thus separating our work from that of other aid organizations - proved to be advantageous to us and the patients.
In this way, we had clear assignments and divisions of labor and could also communicate that clearly to all of the aid organizations and the population.
Upon arriving at the university hospital on the fifth day after the earthquake, the tons of supplies that the DEZA had sent for us was still caught up somewhere in the general chaos.
We stood there, so to speak, "medically naked" in the middle of all that need, all those dying patients, with only our knowledge and our bare hands... but we did have a lively improvisational spirit...
So, after getting approval from our structural engineer, we find some usable supplies in the former maternity ward, which is still intact.
In the two operating rooms, everything looked as it did five days prior, when the buildings were abandoned in wild panic. The bloody surgical instruments still lay on the table... Infusion bottles and tools lay scattered along the hallway, lost in the rush to escape...
And we find bottles with Betadine solution, alcohol to clean the operating tables, dressing, infusions, syringes, needles, anesthetics and antibiotics.
And, of course, operating tables and supply tables and mobile supply racks and beds and mattresses.
In a cupboard, we find multiple sets with sterile instruments for spinal anesthesia and caesarean sections, which were still sterilized before the earthquake and which seem a bit crude.
Since we had to organize and clean the operating section first, we started our debridements on two tables under a canopy.
The supplies that were still lacking - cotton, plaster and a lot of dressing - we got easily from other aid organizations.The leader of the American International Medical Corps, IMC, said to us very un-bureaucratically "simply go to our supply room and take what you need..."
We experienced cooperation, mutual understanding, comradeship, and friendship - all without any hesitation. In such an overwhelming crisis situation, that does a lot of good...
Towards evening, an emergency section has appeared, completely improvised, with headlamps, with a reassembled operating room.
Stitches were also available from the IMC, and a Haitian obstetrician, who lives in the Diaspora in New York and rushed back to Port-au-Prince to help, carried out the sections... Again and again, the surviving midwives, nurses and doctors of the maternity ward came to help... all of which were living on the street, penniless...
There is motivation and hope that, despite this devastating catastrophe, children could be born or delivered via section again... Life, with all its vitality; this drive to survive in the nature of our species continues on. Hundreds of thousands dead, but new life comes to be... it continues on, with hope,
with healthy, unscathed and (yet) un-crippled individuals.
Now, after the electricity and air conditioning is functioning, nothing seems to stand in the way of running an orderly operation in the operating section and helping out efficiently...
With the exception of the aftershocks, which terrify us every few days, and drive the patients from their mattresses into the streets to escape the "secure" buildings that we checked and verified.
We helpers were naive. We believed that we could use the hospital buildings, which had been assessed as safe by our structural engineers, again... our calculations did not include the aftershocks, which most often exceeded 4, and in one case 6, on the Richter scale...
Only the Norwegian Red Cross set up a fully equipped emergency hospital in tents with three large articulated trucks.
And the native residents, who experienced how their buildings collapsed and how hundreds of thousands died agonizingly - in some cases over a number of days - did not want to go back into a building, and justifiably so.
After we experienced a lighter aftershock of about a minute in length during a section - which we survived without having to interrupt the operation, thankfully - we were frightened and enlightened: We moved our two operating tables outside again, in a forecourt under banana and palm tree leaves.
Operating under an open, tropical sky is wonderful, if the circumstances were not so tragic... perfect light... but no fresh air, since the awful, sweet smell of corpses still pervaded. Apart from that, the women in labor were screaming in their contractions nearby.
And since we had to change location so often - for the section, we dared to simplify the operation, when there had not been any tremors for a while, back into the operating section - we need all our operating and anesthetic supplies on mobile supply carts.
The longer the aftershocks became, the more they became our main problem.
In the meantime, rudimentary sterilization supplies arrived: steam pressure sterilizers, long obsolete in our part of the world, but the only thing available here.
However, there are problems with the energy sources. At first, we have only small gas burners, the kind of thing two lovers would take with them during a camping trip, which are entirely inadequate here, even though the weather is hot.
With a collapsed hospital power network, which only supplies 110 V in Haiti instead of the 220 V we are used to, obtaining a 220 V generator from the Norwegian Red Cross brings us an actual sense of professionalism.
The sterilization work is extremely time-consuming and we are forced to free up two well-trained paramedics for that job alone.
The sterilization also had to move into the street as a result of the aftershocks.
Several thousand liters of drinking water represents a massive improvement for the thirsty patients and their relatives.
A true hope and a quantum leap in our primitive medical treatment came to be with the arrival of the US Army hospital ship COMFORT, which had operational readiness as of the eighth day after the earthquake.
On the first day and the day after, we were able to load 100 severely injured patients per day, four at a time, in an army ambulance) and transfer them to the Comfort. Many were children in sepsis and likely suffering from renal insufficiency with extremity crush syndrome. The hospital ship also operates dialysis units.
Parents and relatives were not accepted, so these children were headed into an entirely uncertain future.
And what to you tell a parent in that situation?
You mumble something about only chance for survival ... and you don't add "if at all".


And you inform them that the Haitian Red Cross can most likely provide them with information. And the relatives tolerate it with deep trust and gratitude.
But the rest remain squatting somewhere, with great composure and patience, and wait for help, while one meal a day means a lot to them at the moment...
Our tents are now in and we build a tent village for mothers and children between the rubble.
We are still undecided as to where we should be operating - in the perfectly functioning operating section, under the canopy or under the open sky in the garden - the aftershock on the 11th day drives us out...
In the early morning in the hospital building, we discuss how things should continue. Suddenly, the earth below drops suddenly and stops again after several centimeters of vertical movement and we run out in panic.
This, and the recent availability of numerous tents, leaves us to move into the garden definitively. However, with a large heap of garbage on one side and water tank on the other that has become a sewer, and which cannot be pumped out for lack of a suction truck but only treated a little with chlorine…
So, we are now operating three improvised tables in the tent and we are finally somewhat settled. The sterilization is also set up as perfectly as possible in the garden and a palisade is set up in place of the crumbled external walls of the hospital with old refrigerators.
In the meantime, thanks to the tireless work of our logistics people, we have many metal boxes with sterilized operating tools, basic and specialized sets.
The Norwegian generator is the only one supplying 220 V, so we are finally able to recharge our mobile phones and digital cameras.
PATIENT CARE:
Effective medical help only came about between the fourth and sixth days of the earthquake.
All patients with more severe and vital injuries passed away in this period; for example, those with cranial trauma, severe injuries to the thorax, abdomen, retroperitoneum and hips.
So we only encountered extremity injuries. Among these, the closed fractures, including bilateral femoral fractures, were not of interest to us due to the enormous number of patients.
The problem that we had to overcome was all the contaminated open wounds, incl. open fractures and lighter crush injuries.
The more severe ones had generally died already as a result of fluid redistribution and rhabdomyolysis with consecutive renal failure.
For those with lighter injuries, we had to stop the local infection, the dehydration of the exposed bones and the autolysis of the squashed flesh through radical debridement.
As soon as the word got around that we were treating children and that we had collected the first children in the hospital garden and on the street, they were brought to us in hordes.
With a lack of dressing and splinting supplies, they often received poor treatment.
But, as stated, from the start we hardly had any supplies, and had to seek them out everywhere or ask other organizations for them.
The marking of patients in a catastrophe, along with a minimum of patient bookkeeping and administration is indispensable.
As a result, our American colleagues painted numbers on the patients' skin and noted the diagnosis, operating indications and priority on the attached bandages.
We wrote all patient treatments into a book that we found, and provided each patient with a green, semi-stiff cardboard sheet with the most important key data on diagnosis, therapy and procedure, including planned follow-up examination. For the treatments, we created our own rules, adapted to this particular emergency situation - a kind of medical catastrophe code of ethics.
No dressing could be changed unless the child was anesthetized with Ketanest. The avoidance of pain and additional psychotrauma was of the highest priority.
Medically, the stoppage of infection and autolysis through the extensive debridement of dirty, infected, necrotic and underperfused tissue is an indispensable action, supported by antibiotics, typically intramuscularly.
As a result, our top two medications were Ketanest and slow-working penicillin, which can both be administered intramuscularly very well.
For children and adolescents, with their enormous potential for regeneration, amputations should only be the exception. For most, careful excision of non-vital tissue compartments and individual muscles and tendons is sufficient.
Even if we could not work sterilely in the way we were used to at home, we had good success when we followed certain simple but effective rules... This is evidenced-based catastrophe medicine...
The instruments could only be used without sterilization if they had never been used on a human or were sterilized previously after such a procedure, but were not considered sterile any longer.
Such instruments are clean, but not sterile, and the transfer of infectious and potentially lethal infectious diseases such as hepatitis and AIDS can be ruled out.
If all wounds that were debrided with clean, though not sterile, instruments were left open, the remaining germs are generally not critical. But, the wound must remain open...
These two rules correspond to that of evidence-based war surgery and are ethically sound in these types of emergency situations. We have nothing else and want to save lives, here and now, under these limited logistical conditions, as best we can.
Clear humanitarian tasks...
The steam sterilizers we used, which can reach 140 degrees in 20-30 minutes, are also ethical in this situation, even if they have been obsolete for years in Central Europe and North America because of prions.
If we don't have anything better, we must limit ourselves to what we have to help within certain boundaries, without making the damages worse.
What matters here, then, is the likeliness of saving the patients with our imperfect tools calculated against the likeliness of inoculating them and causing later damage.
As surgeons, we must save our patients here and now...
According to the simple but wise saying: "treat first what kills first"
In this way, before we could perform sterilizations, we assessed new instruments that came directly from the factory and instruments that come out of storage as "clean". As soon as they were used on a human, they could only be reused after they had been sterilized - in this case, in the steam pressure sterilizer.
Along with leaving the wounds open, the local disinfection with Betadine solution as well as the use of gauze compresses soaked in Betadine in pocket wounds, are extremely important.
The process involves thick, absorbent dressings - preferably directly on the wound, which drain off secretions - then thick layer of cotton and elastic bandages on top as mechanical protection.
Dressings should not be changed too early or too often, for economical reasons and since it always requires Ketanest. In the event that the wound could be properly and safely debrided, a change every five days is adequate.
In the event that the wound is less "stable", change every two to three days.
When our Betadine solution got low, we were forced to dilute it for reasons of economy;
1/3 original solution, 2/3 carbonated Walser mineral water, which was delivered to us from over 8000 km away in Switzerland. Compared to the original solution, we saw no issues with the dilution.
For each debridement, we started with a clean instrument box or kidney dish that had not been used on a patient, 1 pair of tweezers, 1 pair of scissors, 1 clamp and a sterile scalpel blade - we didn't have any scalpel grips - as well as gauze compresses from a clean and likewise non-sterile package.
We filled the box halfway with Betadine solution.
We regularly washed off the wounds, debrided them, and finally applied the wet dressing using this box.
We had sterile gloves; we used the internally sterile packaging paper as sterile sheets under the operated body part. Everything that came into contact with the wound came only from the above-named instrument box or kidney dish.
In this way, good discipline enables you to make do with few and inadequate logistical circumstances.
When our supplies arrived, we cut out sheets from the clean cartons to use to protect the operating table. After each patient, the sheets could be disposed of. These sheets, upon which operations were directly carried out in some cases, were not sterile, but, given that we were unable to clean the operating table correctly - except for wiping it down with alcohol, it was an effective protection against hospitalism.
Since our patients had been buried under heaps of stone for multiple days, we had to deal with the delayed after-effects of crush trauma in the majority of cases.
For the closed injuries, the compartment syndrome was already going down and the patients with massive muscular necrosis had already died from the crush syndrome, so that the closed wounds forced no emergency procedures.
For the open, infected and necrotic wounds, extensive debridement and necrosectomy was required in order to stop the progress of the infection and the tissue decline.
For a child, this primarily means the resection of individual, non-vital muscles and tendons, avoiding amputation as much as possible.
In this way, local necrosectomies - until properly contracting muscles and well-perfused vital structures are reached - can help reach the goal safely and securely.
Here, there is no vascular disease, of course, and the time since the earthquake has already led to biologically clear demarcations.
Under these primitive operation conditions, the temporary setting of a pean on a vessel stump is enough for only three to five minutes until hemostasis.The black population reacts more robustly to operational trauma and this also applies to the increased tendency towards spontaneous hemostasis as well.
The extremities are particularly at risk during burial trauma and have less regeneration potential; as a result, this girl's ear had to be amputated due to advanced avascular necrosis with chondritis.
Open head injuries are common in earthquakes. Since the severe cases were generally dead by the time of our arrival, we only saw a few open-scalp injuries, which we were forced to close quickly in order to prevent further dehydration. Since these head injuries are non-vital and infected in only a few cases - a result of excellent circulatory conditions, the mobilization of the pulled-back layers and the primary closure with strong stitches worked well in most cases.
One eight-year old boy had a piece of necrotic skull bone sticking out of a scalp wound. This also had to be taken out in the garden by carefully removing the dura and without damaging the sinus vein. The scalp wound was carefully closed.
A nine-year old girl was brought to us by her father six days after the earthquake. She had injuries to the lower jaw and mouth. The girl had maggots in her mouth. Apart from a perforated lower-lip and chin injury, all her upper front teeth had been smashed up into her upper jaw. Apparently, the child fell and hit her teeth on a step or something hard and drove them upwards into the jawbone. And dozens of maggots spilled out from between the crushed bone and teeth.
At home, we carefully collect all the teeth in such a situation, lay them in milk and replant them. Here, we had to extract all loose teeth and bone matter in the process of debridement. Although the maggots are synergistically helpful during the debridement, they had to be removed from all recesses in deep pocket wounds.
This radical process is hard to understand for the "unpracticed" and had to be thoroughly discussed in a short, situation-related debriefing that night.
The method of treatment had to be completely understood and borne by everyone.
In such a tense crisis situation, notes of discord within the group are devastating, and have to be addressed and dealt with immediately.
What does one do with days-old open joint injuries that are severely infected? For a knee, the extended debridement must remove as much of the infected synovial tissue as possible through the existing wound opening. The joint must be well cleaned. Along with systemic antibiosis, the insertion of an infusion tube through a separate incision in the joint and local cleaning with a short Gentamicin infusion is recommended.Finally, the tube should be removed and the joint left open with the intention of repeating the procedure after two to three days.
Our results in practice each day demonstrated that our strategy of meticulous debridement and open wound treatment with as few as possible amputations and dressing changes (at the earliest three, at best five days) is the right one.
I learned this technique from the ICRC, which has experience from millions of deployments and continuously examines critically its own results and improves its methods constantly,I took part in courses and a three-month practical deployment in LOKICHOKIO in North Kenya, because of the war in Sudan.
In this way, I know precisely that this method of wound treatment - and only this one - is successful in these hygienically precarious situations. And I consistently trained and implemented my team members to this end.
The clean, infection-free granulation tissue, which also grows over bare bones, is the clinical evidence of our indisputable work.
In the first few days, we were not in a position to create extensions, since the patients constantly changed location with their mattresses. This movement was not only a result of people following others like a shadow, but also under the pressure of hierarchical social patterns...
As soon as we had tents and could assign them a fixed location, we began to treat the femur fractures with plaster extensions.
Here, we could successfully take care of closed fractures in the lower extremities for the first time.
A stone or a bottle of water was tied to a line, which ran over the back of a chair if the child was on the ground, over the end of the bed if the child had one. If we didn't have either the chair or the bed, the line was simply tied to the tent frame.
The previous, temporarily created thigh plaster splints were more good intentions than effective stabilization. The diapers often worn by the children did not help the immobilization, either.
For the upper extremities, everything is simpler - as is demonstrated by this well-tried Desault's bandage for a subcapital epiphyseal fracture of the humerus.
Our supplies for Kirschner wire extensions and for the next phase, external fixation, only showed up later, i.e. eleven days after the earthquake. We could only use them later due to reasons of patient accommodation and hygiene during operations.
We received a child from a hospital in another town that had been destroyed. The child's external fixture on the femur had come apart during transport.
With Swiss Army tool, we were able to fix the problem quickly under Ketanest anesthesia.
In terms of larger operations, all we did was caesarean sections, initially in the former maternity ward, but later in the tent between the garbage and the sewer.
A seventeen-year old arrived with two fresh gunshot wounds from behind in the torso (thoracoabdominal). We transferred the patient to the Norwegians, with their perfect, mobile operating room, in the tent for emergency laparotomy.
As stated, all patients with "old" thoracoabdominal injuries caused by the initial earthquake were generally dead by the time of our arrival.
WORK STATISTICS:
In my six days of working, we treated approximately 120 patients; about half of the same came back for the first dressing change.
We only performed one amputation: a seven-year old girl with an extensive crush injury to her arm. She was brought to us eleven days after the earthquake, at which point her arm was autolytic.
We have no idea how many of our primary treatments were also amputated at a later point in time. I have heard, however, that the Haitian doctors accused the international helpers of carrying out too many amputations.
A newborn with anal atresie died during our treatment.These children often have other deformities and this child, by the time he came to us, was in an advanced and very poor condition with massive abdominal distension. In the logistical chaos that we were in, the child's triage priority was placed at the bottom, relatively.
For ethical reasons, I chose not to amputate both thighs of a four-month old boy whose legs had been crushed. The child passed away relatively quickly.
Personally, that would have been an unnecessary, unjustifiable mutilation, which I did not want to do to a child less than one year in age - nor to his family, for that matter.
If the child were older, one would have to amputate both legs, without a doubt.
This ethical decision can only be made by the operating surgeon in this specific case, taking in as much information as possible from the parents.
The parents cannot be included in the triage decision, since they would be encumbered with unnecessary guilt.But, one must discuss the problem with them, as far as possible.
The affected surgical group must be included in the decision, so that they can understand the surgeon and can share the load.
SUMMARY OF THE LESSONS LEARNED:
If you are going to an earthquake catastrophe, the help should be offered in tents. Any attempt to muddle through buildings is wrong.
The helpers should bring simple emergency medical equipment along with their personal luggage.
For surgeons, for example, twenty simple, sterile wound-treatment sets in tin containers as well as two or three amputation sets with Gigli saws and of course a lot of Betadine solution, dressing and cotton and elastic bandages.
Plus, possible some plaster, preferably light and stable artificial plaster.
For anesthesiologists: infusions with the corresponding tubes, syringes and a lot of Ketanest and Depot antibiotics, Dormicum, Fentanyl and analgesics per os or supp. for children.
Everything is very simple and only for the first hours, which always occur in the same pattern after an earthquake - and can thus be well planned-for...
Optimal networking between the individual aid organizations is an absolute must.
If this is the case, everything functions more effectively: helpful synergies occur.
You get everything you need from the other party, and they from you... and working together is much more satisfying ... reciprocal positive feedback mechanism.
Clear structuring and delineations between the different aid organizations are more than essential.
Regular and well-planned information and consultation reports are the backbone of our work.
Without tight and efficient direction, too much energy is lost on unnecessary friction:
There needs to be two people at the top who work as one,
one a native director, who commands his native people, and
the other a foreign director, who is in control of the aid organizations from abroad,
and is voted for and accepted by everyone together.
The native director cannot take command of the visiting resources for reasons of the right to hospitality.
Since the psychic stress - visual, smells, unusual climate, jet lag, as well as unusual, threatening environments (including the recurring aftershocks) - is very high, the helpers must be exchanged after one, two or three weeks, at the latest.
On the other hand, one experiences a great deal of satisfaction and pride in taking part in the operation...
Many of the every day, even frustrating realities at home, appear in a new, relative light. Our vision expands.
However, we also need a lot of time, energy and patient relatives and friends to help process the overwhelming experience.
In the end, the positive feeling of having helped in a team wins out; as a result, we will be there next time, without a doubt, to work with this big family of helpers.
We offer our enormous gratitude to the DEZA and our taxpayers, who made this assistance possible

Medical Deployment after the Earthquake in HAITI
on 12.01.2010 at about 16:53, 7.2 on the Richter scale, the epicenter located west of Port-au-Prince
By Dr. Felix Herkert, General and Orthopedic Surgery, Specialization in Conflict and Catastrophe Surgery.
Date: 01/13/2010
Source: MCIF 2/2010