Article: P. LÜKE, St. KRULL (GERMANY)
Ebola – Humanitarian Mission to West Africa in Cooperation with the German Red Cross
In early August 2014, WHO declared the Ebola outbreak in West Africa an "international public health emergency". By this point at the latest, combating Ebola also became a concrete concern of the German Armed Forces. Various support capabilities were combined to form a humanitarian relief mission to West Africa. This article describes the efforts in coordination with the German Red Cross, it also touches on the concerns that Ebola could be brought back home.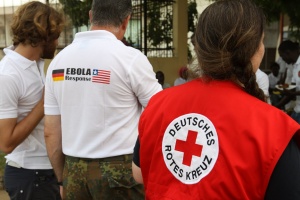 In November 2013 a two-year-old child in Guinea contracted Ebola most likely after she came into contact with a fruit bat. Within weeks, the disease had spread through the small village of Meliandou. Funeral rites and the flight of family members to relatives helped spread the disease. Only three months later did the extent of this epidemic became obvious. It had meanwhile spread through Guinea to Liberia and Sierra Leone. In early August 2014, WHO declared the Ebola outbreak an "international public health emergency".
By this point at the latest, combating Ebola also became a concrete concern of the Bundeswehr (Bw, German Armed Forces). Various support capabilities were combined to form a humanitarian relief mission to West Africa. The overall coordination of the assistance provided by Germany to the affected countries has been the responsibility of the German Foreign Office. For this purpose, the Bundeswehr is providing
airlift capabilities, mainly for the transport of UN material,
support to embassies and liaison elements to the headquarters of other armed forces employed in the fight against Ebola, as well as
a support element for a mission of the German Red Cross (GRC) to provide medical assistance in Monrovia, the capital of Liberia.
The German Minister of Defense, Dr. Ursula von der Leyen, requested volunteers from the Bw for this support element in particular. Her request was immediately met with a resounding response. Just four days later, 2533 e-mails and some 2850 calls had come in. As of today, the number of e-mails has doubled and the calls taken are uncountable.
In order to bring together the necessary personnel and materiel in Germany at short notice and to organize the support mission in Liberia, a broad spectrum of experts was required, which was formed into a task force by the Bundeswehr Medical Service Headquarters (BW MSHQ). Coordination with the GRC, which on behalf of Germany established an Ebola treatment facility in Monrovia, the capital of Liberia, proceeded smoothly, in particular due to the work of this task force. Bw personnel and material were provided for the establishment of an Ebola treatment facility in close cooperation with the GRC.
The challenge was to bring together all the components required to cope with a major epidemic in the heart of Africa. Medical information had to be provided in due time by the Medical Intelligence element at the BW MSHQ. This analysis was refined by a fact-finding team of experienced infection control epidemiologists. After this team had completed its evaluation and identified required capabilities, personnel recruitment and management as well as training in accordance with established standards of the organization Doctors Without Borders (Médicins Sans Frontières - MSF) had to be implemented in cooperation with the GRC. A major effort was required to coordinate with the Joint Support Service and the GRC on barrier nursing training, which had been available in the Bw before but had to be significantly expanded. Mobile laboratories developed for the European Union by the Bw Institute of Microbiology had already been employed for Ebola diagnosis prior to the official involvement of the Bw in the fight against the Ebola epidemic.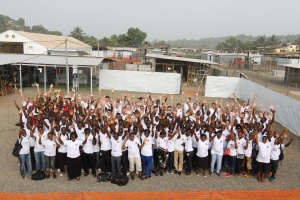 Right from the very start, it was necessary to cooperate with the GRC, the participating actors in the operational area, the UN, relief organizations such as MSF, the U.S. armed forces, and local authorities in order to appropriately fine-tune assistance efforts.
The Bw has provided numerous helpers for the humanitarian relief effort in West Africa, and the BwMSHQ has shouldered its responsibility by sending specialists in tropical medicine to lead the German element.
The possibility of transporting home helpers infected with Ebola is a particular challenge. Since the German Government did not have the proper capabilities, an aircraft for Ebola patient movement was leased. In addition, the German Air Force procured patient transport isolator units and thus acquired the ability to bring Ebola patients in an early stage of the disease back to Germany on a MEDEVAC Airbus. Instructions and information sheets were developed in advance for the groups concerned.
In Germany, there are a total of seven centers for treating patients affected by highly contagious and dangerous pathogens. These make possible the safe and efficient treatment of Ebola.
The relief measures of the international community are now showing positive results in Liberia, the country that was initially worst hit by the epidemic. Two people on average still contract Ebola every day in Liberia. Under these conditions, there is a chance in the medium run to transfer acute assistance to the responsible organizations, which in the medium to long run will rebuild the country's health care system, which collapsed on account of the epidemic. The high price local medical care personnel had to pay in fighting Ebola resulted in large-scale flight from treatment facilities. The objective, now, is to rebuild confidence and in a first step to reestablish basic outbreak control skills through theoretical and practical training in diagnostic measures. In line with this is the report that clinical trials to examine the effectiveness of Ebola vaccines will start in Liberia in the first quarter of this year and then will be extended to the other two affected countries, Guinea and Sierra Leone.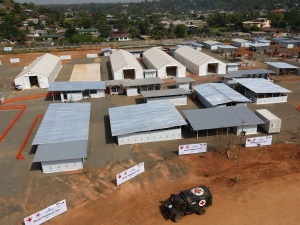 At times, a significant part of the work of Bw helpers involved helping the largest hospital in Monrovia to manage infectious diseases and handle highly infectious patients as well as providing medical expertise to local UN staff. In doing so, the Bw paved the way for further assistance from the international community. The recently opened Ebola treatment center run by the GRC will form part of this effort.
The first volunteers have meanwhile returned and have begun their post-deployment follow-up. Follow-up care is primarily aimed at preventing the potential psychological effects of mission-related stress. It is, however, also a temporary refuge for those whose family and friends are afraid of contracting Ebola and who will likely face prejudicial treatment after returning from Monrovia. This article will take a closer look at such issues. The aftercare seminars for our returnees are conducted in a clinic by a team of dedicated moderators. These team members are, in the truest sense of the word, comrades caring for comrades. Members of the GRC attend the same aftercare seminars true to the motto "work together, recover together". The seminars are coordinated by the Operational Medical Support Command and Medical Regiment 1, both of which are located in Weissenfels.
In the unlikely event that there is a suspected case of Ebola, a Bw medical officer is tasked with assessing the situation. He is available at all times and coordinates his measures closely with civilian health authorities.
With the humanitarian relief mission in West Africa, the Bw has once again relied on its Medical Service, as it has in all of its humanitarian relief missions starting with the Morocco earthquake relief effort in 1960. This Ebola relief mission is underway, and soldiers continue to return home. They are returning with experience that they can contribute to the next mission. Such humanitarian relief missions provide the Bw and the soldiers involved with experience that is priceless. This in itself is a reward for courage and commitment.
West Africa is several thousand kilometers away from Germany. Nevertheless, there is a sense of uncertainty and fear among the German population, above all among the relatives of mission participants, as to the potential spread of Ebola in Germany.
Ebola in Germany – A predictable enemy?
Is the fear of Ebola in Germany justified?
The answer to this question is definitely "no". All institutions involved in fighting this outbreak, be it MSF, the GRC, or the Bw, have carefully prepared their personnel for this mission. Uniform protection and treatment standards have been observed from the start. This response to the challenge of Ebola is in line with how the Bw has been tackling problems for decades, namely with appropriate risk assessment and prudent employment of resources.
Wouldn't it be better to leave the epidemic in Africa?
It is due to comprehensive international assistance that the horror scenarios initially expected have not become true. With the support of WHO, Nigeria was able to prevent a disastrous outbreak in Lagos, a seaport with 20 million inhabitants. The same was accomplished when three cases of Ebola appeared in Bamako, the capital of Mali. With an incubation period of up to 21 days, Ebola could have spread across Africa, resulting in the uncontrolled movement of refugees and potentially infected persons.
For this specific pathogen, the risk of transmission is manageable under the conditions prevailing in Germany. All requirements are met by the specially equipped German clinics organized in the Permanent Working Group of Medical Competence and Treatment Centers for Highly Contagious, Life-Threatening Diseases (STAKOB). Regular training focuses on the transport of patients in special vehicle convoys. Accordingly, all patients have been treated without complications, although regrettably not every patient has been saved.
How contagious is Ebola really?
There is no doubt that Ebola has a high mortality rate. Even under Western medical conditions, up to 30 to 50% of infected persons will die. As long as there are no vaccinations or specific antiviral drugs, people will harbor considerable fears. At this point, let us take a closer look at several important facts.
Fact 1 – Influenza is more contagious and causes significantly more fatalities.
Unlike Ebola, influenza is spread through the air and causes up to 500,000 fatalities worldwide every year. In the 2008/2009 influenza season, almost 20,000 people in Germany died of this disease. Nevertheless, only a small percentage of the population have themselves vaccinated. There are three reasons why in Germany influenza is feared less than Ebola. Influenza is well known in Germany. It causes fewer fatalities, and these are mostly elderly and chronically ill. And there is effective vaccination.
Since Ebola is significantly less contagious and only a few infected patients have come to Germany for treatment, there is no real cause for concern.
Many people, of course, wonder why elaborate protective outfits, reminiscent of the film "Outbreak", are required. The reason for this is the extreme caution that must be taken. Since Ebola is spread by direct contact with body fluids, it is important to cover the entire body of care personnel so that they do not accidentally touch themselves with contaminated gloves. After two to three days, Ebola patients may begin vomiting, which also releases fine, contagious particles. For this reason, special half-face respirators must be worn. In accordance with occupational safety and health regulations, this full level of protection must be maintained as soon as Ebola is suspected. The impression is thus created among lay people that there is a high risk of infection.
Fact 2 – Ebola is only truly contagious when symptoms occur
The outbreak in West Africa has shown that the highest risk of infection lies in nursing the seriously ill and dealing with the dead. Even there, Ebola is not generally contracted in the street. This has been shown by the limited outbreaks in Mali and Nigeria. It is important to remember that even in afflicted countries almost 99% of the population are not infected. If a returning helper had contracted Ebola despite all protection measures, his level of contagiousness would be low when fever first occurs. As long as he does not exhibit any symptoms, infection can be ruled out. The risk is extremely low that helpers will become infected during their work. This applies even to the personnel of ;MSF, who work closely together with Ebola patients.
Fact 3 – Infection is impossible without coming into contact with Ebola
In our enlightened country where many scour the internet for detailed information prior to surgery or medical treatment and consider themselves to be health experts, absurd and grotesque things can be observed with regard to the threat posed by Ebola.
Children of Bw soldiers who return from Mali, an Ebola-free country, are not allowed to attend kindergarten. Spouses of soldiers employed in the airlift for the humanitarian relief effort in West Africa are not allowed to come to work for three weeks. These returnees have never even come close to Ebola patients. Even friends and neighbors temporarily turn away when someone has returned from West Africa. Paradoxically, this also holds true for countries where this risk does not exist at all. All these are signs of irrational fear, which is often difficult to counter even with hard facts.
Nevertheless, we appeal to all readers. Please help reduce these unfounded fears by insisting on facts. The most important key statements in this context are:
A notable risk of infection only exists in the event of immediate contact with persons with severe Ebola virus disease.
Ebola is not transmitted through the air.
A person without symptoms is not infectious.
What are the most powerful weapons against Ebola in Germany?
First, it should be noted that in Germany we are currently engaged solely in Ebola prevention, since not a single case of Ebola has occurred here. A comprehensive preventive strategy is nevertheless our most powerful weapon.
Healthcare facilities in Germany have been given excellent preparation by the Robert Koch Institute and the responsible health authorities. This ensures that suspected cases of Ebola can be detected at an early stage and that patients can be hospitalized in one of seven treatment centers. No other European country has so many treatment beds available for highly contagious and dangerous infectious diseases. To ensure quick decision making, the Bw has appointed an Ebola officer who, together with the responsible medical officers of the Supervisory Centers for Public Law Tasks of the Bw Medical Service, is available at all times.
Second, the risk of infection for the German population is extremely low on account of the small number of returnees, who in addition are professionally trained helpers (GRC, MSF, Bw). In addition, information sheets and FAQ lists available at the Bw intranet website help Bw members find detailed information on assessing the risk of Ebola.
The strongest weapon against the disease is still continued inter-ministerial support by Germany and other international helpers in the outbreak areas. Such a challenge can only be mastered by a joint effort.
In summary, Bw personnel should be aware of the following. We have learned to identify and assess threats and to counter them by employing appropriate forces and assets. We are serving in the armed forces because we are prepared to take risks, even personal ones. We are thus well advised to keep a cool head regarding the very limited risk posed by Ebola in Germany.
Authors:
Colonel (MC) Dr. Peter Lüke, Bundeswehr Medical Service Headquarters, Division A VI, Preventive Medicine, Preventive Health Protection
Lieutenant Colonel (MC) Dr. Stephan Krull, Bundeswehr Medical Service Headquarters, Branch A VII 3.1, Medical Mission Control
Date: 11/15/2018
Source: Medical Corps International Forum 2/2015