Article: Peter Zimmermann, Christian Fischer, Thomas Thiel, Christina Alliger-Horn
Value-oriented Psychotherapy for Soldiers with Moral Injury and Operational Experience
From the German Armed Forces Centre for Military Mental Health (Psychotrauma Centre) of the Bundeswehr Hospital Berlin
Participating in a military operation abroad is for many soldiers an experience that will shape their lives. During the months spent outside Germany, soldiers gain many different impressions, for example as a result of the close bonds that form in the camps – not least with soldiers from other nations – but also through contact with the local culture and population.
These encounters can be extremely enriching and may lead to processes of psychological maturation that open up new and positive perspectives on life and the surrounding environment. For example, the advantages and unique aspects of life in Germany are often perceived much more intensively and more appreciatively.

The team around the head of the military psycho trauma centre Colonel Dr. Peter Zimmermann has created a new therapy concept. In the following PDF document, you will find more information about creation and evaluation of the group therapeutic treatment and also a description of exercises for the 4 modules.
Manual Moral Injuries Englisch
Date: 05/02/2019
Articles
Browse by category
Events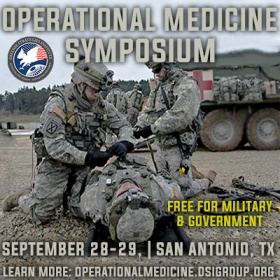 The 3rd Annual Operational Medicine Symposium will focus on DoD initiatives to enhance military medicine in an era of great power competition. This symposium will bring together highly regarded medical professionals from all services to discuss the practice of medicine in expeditionary environments.