Interview
One of the Important Partners within Europe – Interview with Lt.Gen. Gygax Généro, French Surgeon General
EMMS: Could you please be so kind as to describe the main structures of the Military Medical Services in your country? Are there any specific characteristics?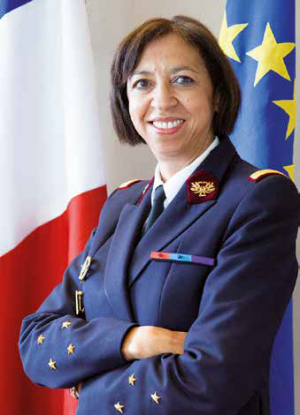 Lt.Gen. Maryline Gygax Généro, Surgeon General l (© BCISSA) SG: As a joint service, the primary mission of the French military health service is to provide operational support to the forces. This support requires a range of medical, pharmaceutical, veterinary, dental, paramedical and medico-administrative procedures, the coordination of which is the responsibility of the division of operations. To this end, the French military health service deploys a complete and coherent operational medical chain, implemented at all times, in all places and under all circumstances. Composed of non-combatant personnel, this chain represents the only service, which escorts the soldier as close as possible to the front line and often withdraws last from the theatre of operations. For that reason, the service constitutes a decisive support force. To implement such a medical chain, the service relies on five components that form a coherent whole: medical clinics, hospital, research, medical supplies and training. Those require specific skills and expertise specific to the staff of our department.
EMMS: What role does the Medical Service play in your country's armed forces?
SG: The medical support to military units is composed of 16 regional medical centers (RMC), which run almost 200 armed forces medical clinics (AFMC). All the RMC are subordinated to the French military health service.
EMMS: How is the cooperation with other armed forces?
SG: It is structured with some countries (for example Germany), in the process of being formalized with some others, but all this is done under the cover of the Armed Forces Headquarters. However, the SSA retains a certain degree of autonomy according to its own objectives, particularly in operation.
EMMS: What developments has your Medical Service seen in the last 5 years and where do you see the specialist medical priorities in the future?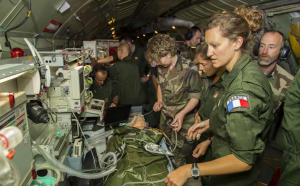 Medical simulation training on board (© Base aérienne 125) SG: The French Military Health Service has undergone significant transformations since 2013. To refine our model, we have been following two main guidelines: refocusing on our core mission, which is the operational medical support to the armed forces in operations, and opening up even further to the public health system and to the health services of allied armies. These transformations included major efforts such as the release of 10% of our staff between 2013 and 2018, and an essential rebalancing at the benefit of the army medical support on the national territory, with additional human and financial resources. It also implied the establishment of strong and innovative partnerships between civilian and military hospitals in order for our military health practitioners to maintain high-grade skills. My priority for the next few years is to consolidate these achievements, so that the Service fully remains the robust and effective operator the French armed forces needs for its medical support. We will also work on exploiting new technologies and improving operational efficiency - we are currently in the process of finalizing modern information systems and new operational medical units. Another decisive challenge will be to attract more staff and to retain them, in a context of direct competition with the civilian hospital sector.
EMMS: Many Military Medical Services suffer from a lack of personnel. What is your situation – are you able to fill all the positions and if not, where is there a specific shortfall?
SG: In a context marked by a situation of a competition between the different actors in the French health system, the SSA is facing difficulties in filling positions commensurate with its needs. This concerns in particular the military medical general practice and some of the hospital specialties, which is critical for the performance of the operational contract.
EMMS: What incentives do you use in order to convince applicants of the desirability of a position?
SG: Recruitment is therefore a major orientation of the SSA's HR policy and various actions have been taken to strengthen the attractiveness and retention of the medical staff. These actions (ongoing and future) concern different
aspects:
- Promoting the values of our military medical service, which have been built from the last three centuries: the noblesse of our mission must be highlighted.
- Intensification of a specific recruitment communication using social networks.
- Implementation of new recruitment tools: "sourcing" contract entrusted to a specialized service provider, development of a "networking" strategy with the creation of a network of recruitment ambassadors, strengthening of "health - defense" training within faculties and health student training institutes.
- Improving the remuneration of practitioners through the implementation of incentives for recruitment or categorical measures to encourage physician retention.
EMMS: How is the quality of your technical equipment?
SG: Our equipment allows us to respond to all the spectrum of operations envisaged. We have particularly worked on the mobility of damage control surgery capabilities and the SSA has recently developed an in-flight surgical capability. At the same time, we are working on the renewal of the R2 segment in order to deploy a surgical capability in an austere environment, including two critical care stations, two surgical sites and four intensive care stations.
EMMS: Cooperation on a European level is being intensified; one visible indication of this is the Multinational Medical Coordination Centre, MMCC. The medical service sector within the joint European defence policy is to be consolidated here. France has signed the PESCO Project EMC. How do you see France's role in this project?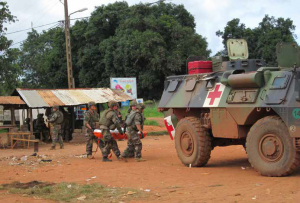 SG: The PESCO was issued from the Lisbon treaty (2007) and aims to promote European defense. It was reactivated in November 2017. 23 EU countries, willing to engage further on European collective security and defense, agreed initially on 19 projects. EMC, the only medical one, was approved on December 11th 2017 and given priority number one. In the spirit of 2016 Warsaw summit, COMEDS has issued a firm statement in its 49th plenary session to avoid duplication and thus merge this initiative with FNC/MMCC, with a broadened scope of missions, including operational ones. Building such an innovative multinational organization, which will contribute to a stronger NATO and a stronger EU, can be challenging; this is why France participates actively to the steering group, bringing its operational experience and helping project leading nation with defining MMCC/EMC concept and governance.
EMMS: What are your expectations in this regard?
SG: Facing increasing and vivid threats, European nations must develop a common strategic vision and knowledge, understand each other, and be able to coordinate themselves to act promptly and effectively together. This new organization must enable all this. I expect it will include, in the near future, the European Medical Operations Forum (EMOF), which is the medical part of the European intervention initiative.
EMMS: Are there any particular points you would like to make us aware of?
SG: All European medical services face same organisational and operational challenges as human resource deficit, and solutions vary due to political and military national agendas. To continue a policy of strong international partnership appears, more than ever, paramount.
EMMS: Is there anything you would like to convey to our readers?
SG: Operational medical research and innovation, above all efforts, appear to be the real way ahead for upgrading military medicine and save always more lives.
EMMS: Lieutenant General, thank you very much for granting us this concise and highly informative interview.
Date: 12/13/2019
Source: EMMS