Abstracts: John Quinn
DiMiMed 2022 - Disaster Medicine Panel:
"COVID-19: 'The Sequel' - Implications for the future delivery of Disaster and Military Medicine"
Introduction
As we prepare for the upcoming DiMiMed conference this Autumn 2022, we must take stock of where we have been and where we are going – battlefield medicine has accelerated at a dizzying pace over the past 12 months. Both the current COVID-19 pandemic and the invasion of Ukraine by Russia using conventional forces and weapons systems show that potential security and health security threats abound. Observations from this experience will be lessons lost if we don't act now! This disaster medicine panel proposes to not only describe the need and the response, but also to prepare and anticipate and prevent future catastrophes and medical disasters.
DiMiMed 2021: Disaster Medicine Panel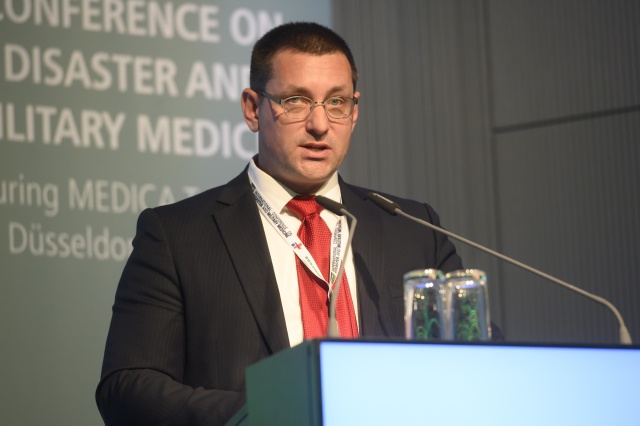 John Quinn at DiMiMed Conference
The 2021 DiMiMed Disaster Medicine Panel unpacked and reviewed a myriad of emerging concepts, threats and technologies in the prehospital and disaster medicine space. The expert panel illustrated and elaborated key concepts to share our experience and push for best practices in disaster medicine. Retired General Prof. Martin Bricknell from Kings College London described a typology for the military-civilian interface in the disaster setting; Lt Col Chelsea Payne, a preventative medicine specialist from US AFRICOM, presented on Health Security Threats and NATO Interoperability; and finally Dr Aebhric O'Kelly, Dean for the College of Remote and Offshore Medicine Foundation, outlined a very practical application of Point of Injury Care in the presence of COVID-19. We also were also fortunate to have two briefings from event sponsors, one on nerve agent response and other on research highlights in medical devices from the Scientific Lead at Zoll. The practical approaches, academic and collegiate debate and discussion allowed for new ideas at solving old and new problems.
The Multi-dimensional Threat
Today, the health security environment is more complex and demanding than at any time since the Cold War, reinforcing the need for NATO, the European Union (EU) and other partners to ensure that both our deterrent and defensive postures are positioned to prevent and respond to disaster if it erupts. COVID-19 remains a risk, new and emerging infectious diseases could threaten our health security, and wider multi-domain challenges could undermine the rules-based international order that is the economic foundation for our health systems. Compounding this, on 24th February 2022 over 120 Russian Battle Group Battalions with advanced weapon systems invaded Ukraine destroying over 70 years of peace between states on the European continent. Healthcare systems, disaster response, clinical medicine and point of injury care all comprise the tools that provide and promote our collective health security, and our resilience to learn and rebuild.
The Goal
Despite our exhaustion and fatigue from COVID-19, the pandemic has demonstrated that allies' resilience can serve as a first line of defence for health security threats. NATO, the EU and wider international partners have implemented robust measures to limit the spread of the virus and reduce morbidity and mortality across military and civilian communities. Now, we all face a Russian military threat that attacks not only Ukraine but the political and economic consensus that provides mutual support across European states. In response to these crises, there are multiple examples of allies and international partner states providing material support and expertise across state borders to help health systems, share health and clinical information, and provide life-saving vaccination and clinical care. DiMiMED supports best practice and helps share lessons in disaster medicine across military medical services.
The Future
The core of point of injury (PoI) / point of wounding (PoW) care revolves around the methodology and clinical approaches of Tactical Combat Casualty Care (TCCC) to treat both trauma and medical emergencies. Military medicine rightfully places overwhelming emphasis on point of injury, self-aid and buddy aid though standardizing the clinical concepts within TCCC enabled using individual first aid kits ("IFAK"). These actions minimize preventable deaths and maximize the chances of live casualties reaching DCR/DCS. We need to learn how these techniques have been implemented during high intensity conflict for both military and civilian casualties. We also need to consider whether advanced field resuscitation techniques such as pre-hospital administration of blood products are practical in the face of intense combat - the 'scoop and run' versus 'stay and play' debate.
The next phase is tactical field and evacuation care, enabling clinical care during casualty evacuation to Role 1 (advanced resuscitation) and Role 2 (Damage Control Resuscitation and Damage Control Surgery) medical facilities. The medical journey does not end at Role 2 and continues via critical care and en-route care and transport from a Role 2 to a Role 3. Casualty evacuation during combat is a tactical activity which is fraught with danger. Not ruling the air has terrible consequences on clinical timelines for medical evacuation from war zones. Rotary and fixed wing evacuation may be blocked. What medical innovations are needed to support en-route care in ambulances, improvised transports, or railways while transporting patients to a higher echelons of care? We also need to consider the role of the Geneva Emblems in ensuring the protection of medical transports as proscribed under International Humanitarian Law.
Damage Control Resuscitation and Damage Control Surgery (DCR/DCS)
DCR/DCS is the first stage in the actual treatment of war wounded. There has been excellent civil-military cooperation to share knowledge and skills to enable all health professionals to care for military-type trauma. We need to learn from the difficult experiences of holding patients in a 'prolonged care' setting and providing intensive care and follow up surgery in austere clinical conditions. How are clinical lessons shared within a war zone, and what lessons need to be applied if rapid evacuation from Role 2 to Role 3 hospitals is blocked? We also need to consider lessons for the continued provision of other services for clinical emergencies in obstetrics, pediatrics, and general medicine. What does this mean for military Role 2 and Role 3 units in a 'war amongst the people'.
Disaster Medicine Response: Systematic Approaches
Systematic approaches to disaster prevention, response and preparation remain a major challenge across the military and civilian health space. It is not only difficult to provide medical care in austere, temporary facilities, but there is also a need for a medical logistics system that ensures that these facilities are supplied with drugs, dressings, blood, and replacement medical devices. It is vital that we can hear about this from experienced practitioners.
Aligning international military medical standards and sharing lessons with allies and partners will not only reduce preventable morbidity and mortality, but also will enrich and strengthen our defense alliances and our military medical structures, systems, and institutions. These benefits and knock-on effects cannot be instituted unless the conversation continues. The 2022 Disaster Medicine panel hopes to not only push this conversation and academic debate forward but also share medical lessons learned and capture more closely the vital critical medical data points to streamline medical systems that support in returning warfighters to the fight, and maximizing medical outcomes and quality of life.
Conclusion
DiMiMED 2022 will be a great event to promote of best practices for military and disaster medicine. Security and health security events are getting worse and exacting a heavy toll on preventable morbidity and mortality. We must support the sharing of lessons learned, description of disaster response and promotion of best practices across our allies, partners and fellow institutions in support of health, health security and basic foundations of democratic principles. This disaster medicine panel scheduled for DiMiMED 2022 proposes to not only describe these needs but also to prepare and prevent future catastrophes and medical disasters by sharing these lessons learned and promoting best medical practices.
---
Author details:
John Quinn led the DiMiMED 2021 Disaster Medicine Panel and most recently served as Alumni Scholar from October to November 2021 at GCMC in Garmisch-Partenkirchen. Prior to the recent Russian Invasion, John established a medical evacuation chain and point of injury care service in Ukraine and provided direct DCR/DCS at the tactical evacuation and Role 1 levels of care. The conclusions expressed here are entirely that of the author and do not represent governmental policy, past, present or future.
Date: 07/05/2022
Source: John Quinn