about military-medicine.com / contact
WELCOME
Welcome to military-medicine.com. This is a 'free at point of use', open access resource for information and debate on military medicine. Our company and website provide four key resources for your use:
Our business model uses the income from advertising and conferences to support the hosting of the Military Medical Corps Worldwide Almanac and Military-medicine.com Journal. The Almanac provides free access to the profiles of nations' military medical services that have been provided through their Surgeons General. The Military-medicine.com Journal is an open, international source of thought and debate on the topic of 'military medical services in support of national security objectives'. Our flagship conference is DiMiMed which is held alongside MEDICA in November each year. We also provide a listing of other international conferences on military medical topics. Our military medical business forum is designed to help you to identify suppliers in the military medical market that might meet the needs of your military medical services. Please visit the landing page for each section for more information.
We welcome feedback on any aspect of our website and services.
Best wishes!
Heike Lange
Beta Verlag & Marketinggesellschaft mbH
---
CONTACT
The military-medicine.com website is managed by BETA Verlag & Marketinggesellschaft mbH
website: https://www.beta-publishing.com/verlag
PUBLISHING HOUSE
Beta Verlag & Marketinggesellschaft mbH
Celsiusstr. 43, 53125 Bonn

Our key personnel are:


Managing Director
Heike Lange

Editor-in-Chief / Military Medical Corps Worldwide Almanac
Professor (Dr) Martin Bricknell CB OStJ PhD DM
Lieutenant General (ret.)
martin.bricknell@beta-publishing.com

Editorial Manager / Eventteam
Julia Ehlen
+49 228/91 937-30
events@beta-publishing.com

Sub-Editors / Chairmen DiMiMED
Brigadier General (ret) Rob van der Meer
Colonel (ret) Gerry Kerr
Articles
Browse by category
Events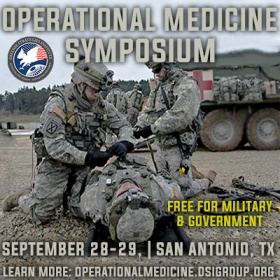 The 3rd Annual Operational Medicine Symposium will focus on DoD initiatives to enhance military medicine in an era of great power competition. This symposium will bring together highly regarded medical professionals from all services to discuss the practice of medicine in expeditionary environments.